Introducing This Year's Theme... THREE THINGS
Gary B. Arnold, EdD - LRCA Head of School
THREE THINGS
Yogi Berra famously quipped, "We're lost, but we're making great time." I can't think of a better sentence to capture the world in which we find ourselves. Lost but making great time. The velocity of our life is fierce and the risk of missing the mark is ever-present.
Now, more than ever, we need to know the right direction and that it's more than OK not to follow the masses in the wrong direction. We need to know the way. Our children need to know the way.
"Start children off on the way they should go, and even when they are old they will not turn from it." Proverbs 22:6 (NIV)
This year, in this chaotic and clamoring world, I want our students to lock on to three things.

One, Jesus is the way. Two, Jesus is the truth. Three, Jesus is the life. Just as He said in John 14:6, "I am the Way, the Truth and the Life. No man comes to the Father except through me." In other words, it's all about Jesus.
Funny thing about counting to three with our fingers – we make a "W!" It's a lasting expression of our commitment to the Warrior Way, the way of Jesus.
BLOOMING MARVELOUS
Karen and I traveled to Scotland this summer on an errand for a Christian foundation. Somewhere in St. Andrews, not knowing where we were, we came across this one-of-a-kind sign. Who would not want to go there?! So, there we went. And, sure enough, it was blooming marvelous! That is our hope and prayer for your children this year. That they may follow the path to a "blooming marvelous" experience this year at Little Rock Christian Academy. Join me as I pray, "Father, lead us in the way. Anchor us to the truth and may we experience a 'blooming marvelous' life in Jesus."
MISSION EFFECTIVENESS SURVEY

This summer, the board of trust, the leadership team and the education team received a 69 page executive summary of data collected in our annual Mission Effective Survey (MES). 362 parents responded to our extensive questions about how we are doing in terms of our mission. As always, we scrutinize the data to help us identify blind spots and improve our effectiveness. Thank you for sharing your observations with us.

Curriculum aside, there were three major observations:

1. Stewardship – are we spending money on the right things? My abiding goal is to provide you with a competitive, faithful education comparable to the best Christian school in the country for significantly less money. The crunch comes in balancing tuition with teacher salaries and enrollment. I refer us back to the most recent pie chart of our expenditures.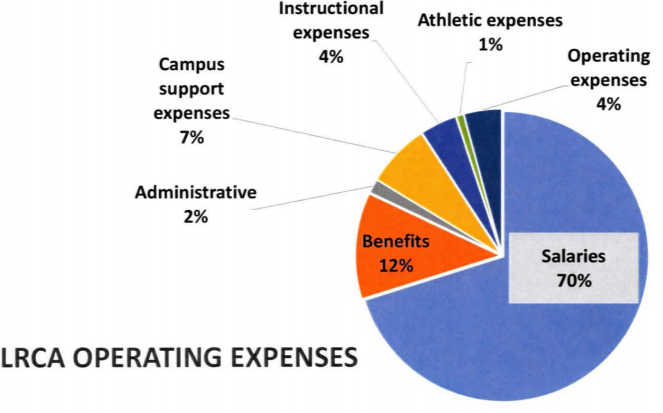 2. Athletics – are we focusing too much on athletics? I love the fact that the majority of our students participate in athletics. The positive correlation between extracurricular activities and scholarship is striking. And, what a memory for our school to earn the record number of state championships while posting such admirable graduation statistics. Yet, the biggest take-away for me is the glorious fact that our new athletic facilities are designated gifts from people who love the school and her mission. Your tuition and fees do not cross over into these major construction projects. Your LRCA experience has been magnified by the generosity of others.

3. Consistency – are we being consistent in teaching quality and discipline? We certainly try. Through hiring, coaching, mentoring, and professional development, we aim to offer you our best. One area we definitely need to improve is in our communication between teacher and family. We apologize for lapses. There is no acceptable excuse. We will do better.

As for your few curricular concerns, our team of educational leaders will follow up to reduce the number of speed bumps or potholes that may have made last year less than excellent for you.

That said, 2018-2019 was an extraordinary year! Our Net Promoter Score* rose for the third straight year. [*Net Promoter Score = "How likely are you to recommend LRCA to people you know?"] On top of that, the following word cloud was created from all the survey comments describing your LRCA experience.
On May 24th, 2,200 friends and family members of the Class of 2019 gathered to witness the fruits of our labor of love. 146 seniors crossed the threshold to over 30 colleges with over $13 million in scholarships offered, a 27 ACT average and a Valedictorian who, in three minutes, distilled thirteen years of sacrifice into a love offering to his mentors, his school and his Lord.

I hope you will take the time to listen to his humorous and soulful testimony.
TWO MORE THINGS

Many of our faculty and staff sought out professional development opportunities this summer to sharpen their saw. Here's a sample:
The Teaching of Reading training at Columbia University, N.Y.
RISE training in reading pedagogy by Arkansas Department of Education
Harkness Training – three schools join LRCA on our campus for training by our Harkness leaders
Ed Tech Summit at Episcopal Collegiate School
Christian Education Charitable Trust (Maclellan Foundation) think tank on innovation
Council for Educational Standards and Accountability (CESA) Advancement Institute
Colson Center, Colorado – eight LRCA teachers accepted to Colson Fellows BWV leadership program
AP curriculum training conferences
ISTE – national conference for IT training
FACTS school finance software training

"DON'T STOP … THINKING ABOUT TOMORROW!"

Downtime is not in our vocabulary. It's like maintaining a beautiful schooner. There's always rigging to check and brass to polish. Summer weeks are overflowing with projects. Not including the general construction of the Arena and five new classrooms, our building and grounds team have an eight-page spreadsheet of 313 summer things to do in order to be ready for your return on August 14. Highlighting the top ten improvements:
Expanded, newly paved parking lot for high school
New preschool playground
Elementary front office remodel, additional classroom and arts relocation
New, upgraded elementary interactive big screens
Middle School paint refresh & new classroom furniture
Junior High paint refresh, new classroom furniture and classroom monitors
New classroom monitors in High School; two new Harkness room layouts
Widened west gate entrance with pad for future gatehouse
25 ton HVAC replacement
Welcome Center parking expanded and paved
"So, neither he who plants nor he who waters is anything, but only God makes it grow." (1 Corinthians 3:7)

On that note, I can't wait to see you back on campus!
Faithfully yours,
Gary B. Arnold, Ed.D.
Little Rock Christian Academy
Head of School/President
#3Things
---